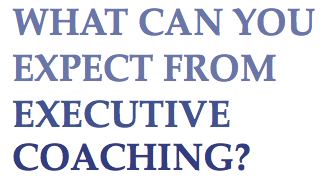 Executive Coaching helps you move forward professionally. Clients report:
Increased Professional Fulfillment
Increased Self-Awareness/EQ
Increased ability to resolve conflicts: professionally and personally
Increased motivation and increased energy to accomplish goals
Increased alignment of their values with their work
Increased ability to turn challenges into victories
Increased overall success and effectiveness in their professional lives
Increased revenue potential and job satisfaction
Coached professionals report a deeper professional connection to their work, a stronger connection to their team, increased problem solving capabilities and a higher income potential as compared to non-coached professionals. Their organizational commitment is higher, their ability to resolve conflicts is greater and their sick days and turnover rates are lower than non-coached professionals. Employers report an overall ROI in excess of 850% (The Lore Research Institute/Lore International Institute).
My name is Julia Harris Wexler. My roots are in the Executive Search business. I have been advising senior management on how to grow their human capital with regard to talent acquisition for the past two decades. I bring a deep understanding of the goals and pressures inherent within the financial services industry in particular, and within the business community at large. Highly demanding professional environments require a specific set of skills. Helping clients properly navigate through changing organizational tides is my specialty.
Executive coaching is frequently used for:
On-boarding
Transitioning
Leadership skills
Mid-career shifts
Overall career navigation
Harvard Business School shows "86% of companies used coaching to sharpen the skills of individuals who have been identified as future organizational leaders. One-on-one interaction with an objective third party can provide a focus that other forms of organizational support simply cannot." (HBS Harvard Management Update).
Executive coaching is a commitment to working together in person (or Skype) to correctly assess the situation, define the task, devise an action plan and commit to results. During this process skills are assessed, feedback is gained, values are aligned and changes occur. Clients are finally able to shed the negative factors that have been slowing down their performance.
Executive coaching is the supportive short-term relationship that moves top performers to the next level in their careers. It provides the self-awareness and the self-confidence required to move toward your highest potential.